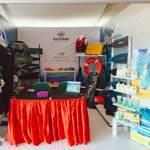 Maldives Marine Expo 2021
Mula participated in the Marine Expo organized by the National Boating Association of Maldives (NBAM) alongside MMI Bamboo, one of the leading souvenir supply and retail outlets in the Maldives. With over 40 exhibitors, Maldives Marine Expo was held from 13th December 2021 - 15th December 2021 at the Central Park in Hulhumale'.
The Maldives Marine Expo 2021, is a platform for the marine industry featuring products, offerings, programs and panel discussions on industry topics.
Mula team had the pleasure of presenting Mula limited edition 'Sun Kit' to HE President Ibrahim Mohamed Solih, Vice President Faisal Naseem and the President of People's Majlis Mohamed Nasheed.
H.E President Ibrahim Mohamed Solih meeting with Mula team
Speaker of the Parliament, H.E Mohamed Nasheed being presented with Mula 'Sun kit' limited edition pack
Vice President Faisal Naseem visiting Mula booth at Marine Expo 2021