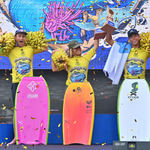 Maldives Pro 2022 - First ever IBC World Tour in the Maldives
Visit Maldives Pro 2022, the inaugural event of Maldives Pro series for the IBC Bodyboarding World Tour was held in the Maldives for the first time ever from 29th July – 7th August 2022. This is the first IBC tour to be held in the Asian region.
The International Bodyboarding Corporation (IBC) is a non-profit organization that represents and promotes bodyboarding across the world at all levels from grassroots development through to professional world tour events.
It was truly an honor for us to be the official Sun care partner for the event.
It was a historic event for Maldives as Aamin was the first athlete to ever compete in the finals of the IBC World Championship.
Our very own ambassador Eyan Ahmed competed and made it to the Top 16 which was a huge win for the young and promising bodyboarder.
Huge congratulations to the Champions of this year's IBC World Tour!
American Dave Hubbard is the winner in both the Men's and the Drop Knee Division. Isabella Sousa of Brazil won the title of Women's Champion. Lastly, Gabriel Molina swept the Junior Division Champion title.
It was an amazing event, and we look forward to welcoming the IBC World Tour 2023! Major shoutout to MBBA, IBC and all the fellow sponsors for pulling off a successful event!