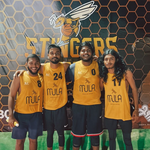 We at Mula truly believe that the success of a society lies within the youth empowerment. When a group of young passionate basketball players approached us to support them, we didn't have to think twice. With our sponsorship, the team team played in the Stingers 3 on 3 Chapter 1 Basketball tournament that was held from 3rd - 6th November 2021.
It is our hope that we will be able to support and encourage the youth to be more involved in what they are passionate about.
We believe that anything under the sun is possible!