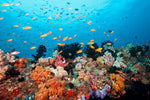 June 1st of every year is celebrated as the World Reef Day. It was founded by Raw Elements back in 2019, which marks this year as the 4th year celebrating World Reef Day.
Coral reefs are home to 25 per cent of the ocean life providing habitat for a large variety of marine life, including various sponges, oysters, clams, crabs, sea stars, sea urchins, and many species of fish. Coral reefs are also linked ecologically to nearby seagrass, mangrove, and mudflat communities. One of the reasons that coral reefs are so highly valued is because they serve as a center of activity for marine life.
World Reef Day is dedicated towards educating individuals and businesses at a local and global level to work towards the sustainability, responsibility and awareness towards protection, restoration and recovery of the coral reefs. It is our responsibility to protect the delicate and beautiful reef that surrounds our island nation. After all, the Maldives is series of coral atolls, built from the remains of coral. 
As a Maldivian Sun care brand, it is of utmost importance that our products or actions do not harm the marine life. We are proud to claim that our SPF 50 Sunscreen lotion with reef friendly and formulated without Oxybenzone or Octinoxate, which are known to be the most harmful chemicals to the reef.
So what happens when you wear a sunscreen that contains these two chemical ingredients?
It causes decrease in the corals' defense against bleaching, damages their DNA and hurts their development. Now, we are talking about the home for thousands  of marine species.
Apart from using sunscreens that contain these two ingredients, there are other man-made pressures that impact the growth and development of corals such as pollution, destruction caused by coastal development, destructive fishing practices, touching or removing coral and so on. 
You may wonder, why do we use plastic to package our products. The reason for this is due to the regulations imposed in Australia in relation to Sunscreen. As you may already know, our sunscreens are certified by the Australian Therapeutic Goods Administration (TGA) and is considered as a therapeutic good. It is required to store sunscreen in either glass, aluminum or food grade plastic - which is what we use. Our Sunscreen is stored in HDPE (Food grade virgin plastic which you can recycle) and our After sun gel is packaged in MDPE (which you can also recycle!). Our long term plan is to switch to a more sustainable form of packaging, as our brand grows!
Lets explore ways on how you can contribute to the world reef day.
1. Educate yourself and loved ones about the manmade pressures that impact the marine life.
2. Use a reef friendly sunscreen
3. Stop polluting the oceans.
4. Reduce single use plastic.
If you would like to contribute or work towards protection of coral reefs, here are some Non-profit Organizations in Maldives that work towards protection, restoration and recovery of Coral reefs.
Save the Beach
Coral Institute Maldives